UCSB Comm Alumni Virtual Career Series
Lighting Up Your LinkedIn Profile
---
UCSB Comm Alumni Virtual Career Series
We are excited to announce the UCSB Communication Alumni Council Virtual Career Series via Zoom, featuring UCSB Communication Alumni. Sessions continue the 2nd Wednesday of most months during the academic year.
Since we have been unable to host our in-person alumni networking events, we wanted to create a way for students to connect with alumni and learn about the many job opportunities available for comm majors. Our alumni work in a variety of industries -- from media and PR to legal, real estate, entertainment, hospitality, sports, and more. We have programmed these sessions to be informal and interactive. The speaker will spend about 10-15 minutes sharing their career journey and discuss job opportunities in their industry. We will then open it up to a Q&A where you can ask your questions about career, networking, job opportunities, etc. Also, we welcome feedback on future sessions you'd like to see as part of this series so bring your questions and ideas to the session!
Thanks and see you at the upcoming Virtual Career Sessions! Click on the links below to view videos of past sessions.

2020
2021
January 13, 6pm PT: Careers in HR/Recruiting with Jamie Morgan, Head of Technical Recruiting, Cruise
February 10, 6pm PT: Careers in Tech with John Bollen, Chief Information Officer, The Cosmopolitan of Las Vegas and Alex Platt, Business Relationship Manager, Procore Technologies
March 10, 6pm PT: Careers in Advertising, Digital Marketing, and Product with Alexei Pizarev, Director of Operations and Product Strategy, Publicis Media
April 14, 6pm PT: Careers in Event Management with Cynthia Tucker, Assistant Director, Trojan Event Services, University of Southern California
May 26 [Note different date!], 6pm PT: Careers in PR with Debbie Fitzgerald, Co-owner/Principal, Fitzgerald Petersen Communications
UCSB Comm Alumni Council
Our 6th session is on Wednesday, March 10th from 6:00-6:45pm PT and features a discussion on Careers in Advertising, Digital Marketing, and Product with Alexei Pizarev.
Alexei is currently the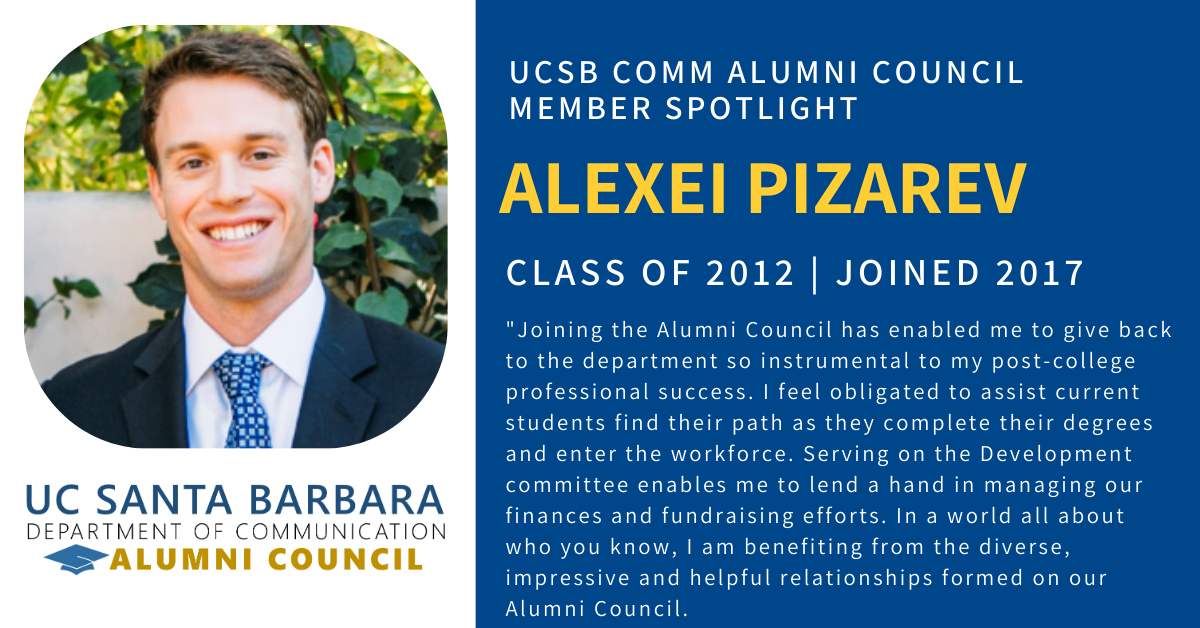 Director of Operations and Product Strategy at Publicis Media. During his career in digital advertising, he held a senior M&A role during an integration between two media companies, built multiple successful operations teams, managed an office in Europe, and currently oversees team operations as well as new product development and partnerships at Publicis Media's business unit, APEX. At UCSB, Alexei was the Philanthropy Chairman for Sigma Pi, involved in the establishment of the Sean Vernon Feliciano Amazing Day Foundation as Sigma Pi's national philanthropy, a Research Assistant for Prof. Walid Afifi, and a member of the Communication Association. He graduated with a B.A in Communication and a Minor in Russian Language.
Register here https://www.eventbrite.com/e/comm-alumni-virtual-career-series-alexei-pizarev-tickets-142929334487. You will receive the Zoom link automatically after registration.
Past Virtual Career Series
Justine Miller, Journalism and Reporting, Oct 14, 2020
Karen Thorland and Jake Edson, Careers in Law, Nov 11, 2020
Justin Hannah, Careers in Advertising, Dec 6, 2020
Jamie Morgan, Careers in Human Resources/Recruiting, January 13, 2021
Click here to download the .ppts used in Jamie Morgan's presentation.
John Bollen and Alex Platt, Careers in Tech, February 10, 2021
Click here to download the .ppts used in John Bollen's and Alex Platt's presentations.
---
Lighting Up Your LinkedIn Profile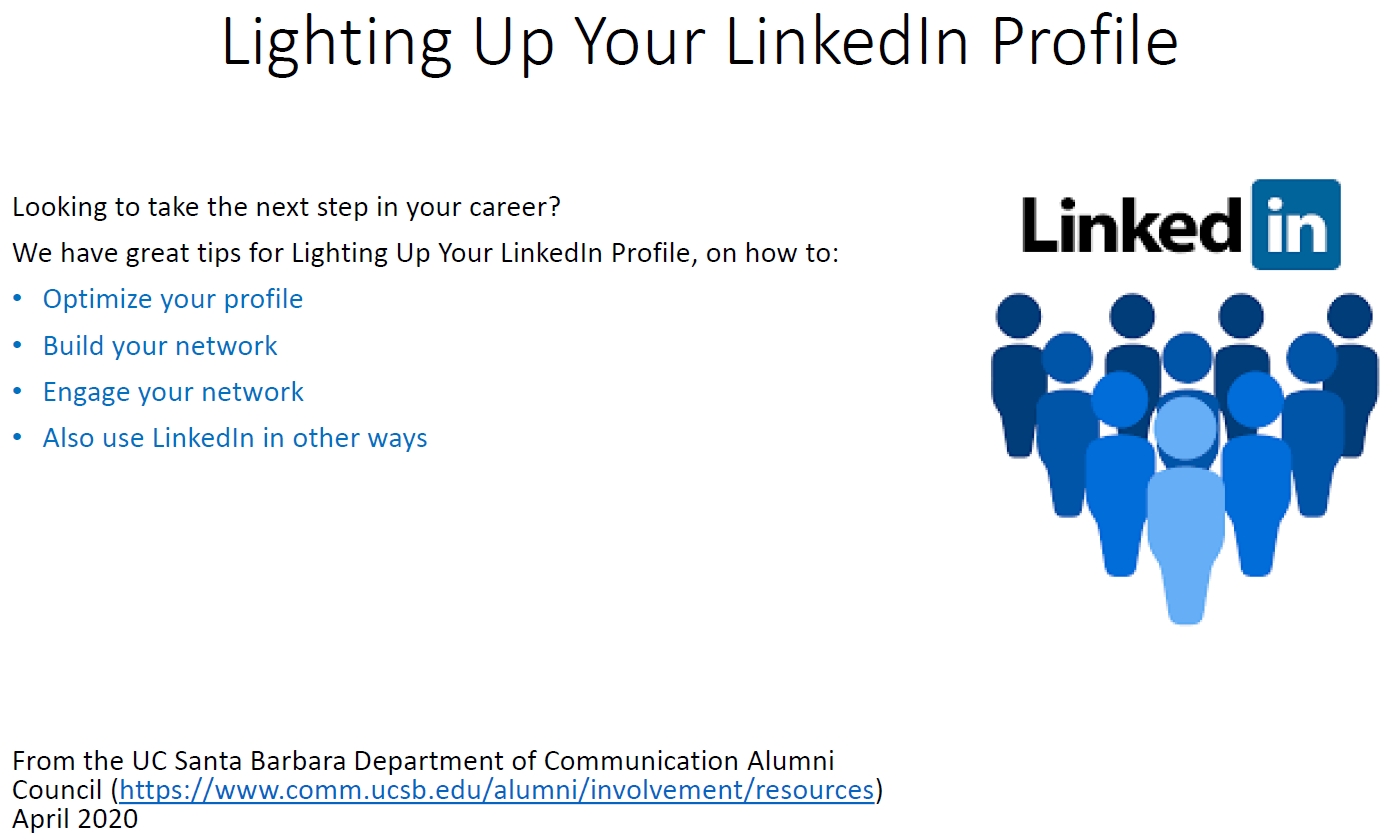 Click here to download .pdf of 8 .ppt slides
---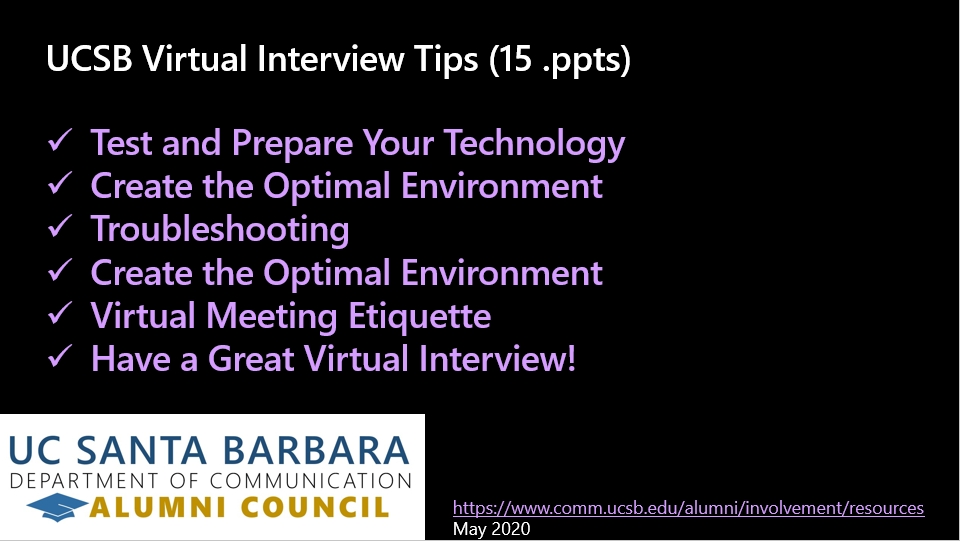 Click here to download .pdf of 15 .ppt slides
---