UCSB Comm Alumni Virtual Career Series
Lighting Up Your LinkedIn Profile
Here's a great site for career resources: See the Get Hired tab on the UC Santa Barbara Career Services site: https://career.ucsb.edu/get-hired: It covers: How to Succeed in Your Search: Job search strategies; Resumes; Cover letters; LinkedIn; Interviews and offers; and The first day.
---
UCSB Comm Alumni Virtual Career Series
We are excited to announce the UCSB Communication Alumni Council Virtual Career Series via Zoom, featuring UCSB Communication Alumni. Sessions continue the 2nd Wednesday of most months during the academic year.
Since we have been unable to host our in-person alumni networking events, we wanted to create a way for students to connect with alumni and learn about the many job opportunities available for comm majors. Our alumni work in a variety of industries -- from media and PR to legal, real estate, entertainment, hospitality, sports, and more. We have programmed these free Zoom sessions to be informal and interactive. The speaker will spend about 10-15 minutes sharing their career journey and discuss job opportunities in their industry. We will then open it up to a Q&A where you can ask your questions about career, networking, job opportunities, etc. Also, we welcome feedback on future sessions you'd like to see as part of this series so bring your questions and ideas to the session!
December 8 6 pm PT: Careers in Product Marketing with Shefali Agarwal, Product Marketing Manager, Virgin Pulse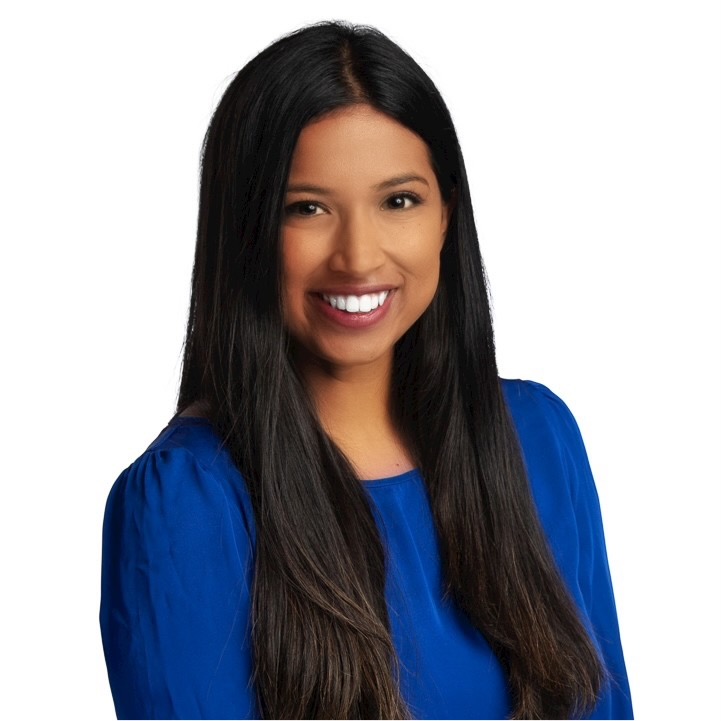 Shefali (BA, Comm, 2017) recently started as a Product Marketing Manager at Virgin Pulse - a company founded in 2004 as part of Sir Richard Branson's Virgin Group that is focused on designing technology to cultivate good lifestyle habits for employees and drive superior outcomes for businesses. She has experience in covering employer, payer, and digital health sectors and has continuously aimed to diversify her portfolio, allowing her to foster an ability to connect with people in varying roles and quickly adapt to new projects. She's worked at a healthcare nonprofit as well as digital health tech companies like Vitamin Angels, Castlight, Kindbody, and more. Shefali has maintained a constant interest in competitive intelligence, digital marketing, and writing and disseminating content. She is passionate about taking her learnings that have helped her navigate her career and "pay it forward" - shaping the next generation of UCSB alums. While at UCSB, Shefali was involved in HerCampus Media and worked part-time at the Isla Vista Food Cooperative.
Click here to register with EventBrite to receive your Zoom link for Shefali!
January 12, 2022 6 pm PT: Careers in Corporate Communications with Erin Bergamo-Tacy, Chief Communications Officer at Blend Labs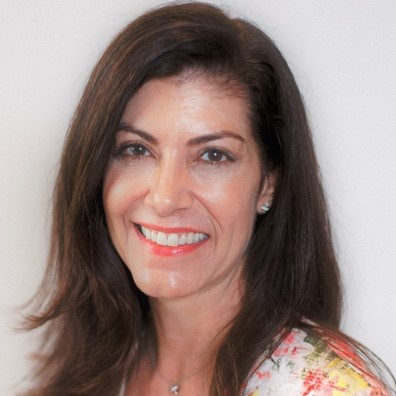 Ms. Erin Bergamo-Tacy has more than 25 years of experience managing and driving strategic communications for key businesses and technology companies around the world. She currently serves as the Chief Communications Officer for Blend Labs, a leader in cloud banking software that is focused on bringing simplicity and transparency to financial services. Prior to Blend Labs, Ms. Bergamo-Tacy was Sr. Director of Public Relations and Reputation at Vmware, served as Executive Director of Worldwide Communications for Lenovo's Data Center Group, and was responsible for all internal and external communications in EMEA (Europe, the Middle East, Africa), APJ+GC (Asia Pacific, Japan and Greater China) and the Americas (Canada, US and Latin America for CISCO. Ms. Bergamo-Tacy holds a B.A. in Communication from UC Santa Barbara, and a Marketing Certificate from the University of California, Berkeley. She is a graduate of several leadership training programs including Cisco's Executive Action Learning Forum and the Business Leadership Program. She also has a patent-pending on a Global Communications Model for driving effective communications strategies across multiple audiences and channels.
Click [to be provided] to register with EventBrite to receive your Zoom link for Erin!
Click on the links below to view videos of past sessions. For the full playlist on YouTube, click here.

2020
2021
UCSB Comm Alumni Council
Past Virtual Career Series
Justine Miller, Journalism and Reporting, Oct 14, 2020
Karen Thorland and Jake Edson, Careers in Law, Nov 11, 2020
Justin Hannah, Careers in Advertising, Dec 6, 2020
Jamie Morgan, Careers in Human Resources/Recruiting, January 13, 2021
Click here to download the .ppts used in Jamie Morgan's presentation.
John Bollen and Alex Platt, Careers in Tech, February 10, 2021
Click here to download the .ppts used in John Bollen's and Alex Platt's presentations.
Alexei Pivarev, Careers in Advertising, Digital Marketing, and Product, March 10, 2021
Click here to download a .pdf "takeaway" of Alexei Pizarev's main points.
Cynthia Tucker, Careers in Event Management, April 14, 2021
Debbie Fitzgerald, Careers in Public Relations, May 26, 2021
Click here to download a copy of the powerpoint deck Debbie used in her presentation.
Noelle White, Brand Mgt. & Marketing, June 23, 2021
Norah Dunbar and Chuck Taylor, Careers in Deception Detection (Research, Financial), October 13, 2021
Click here to download four .ppt slides accompanying the Dunbar and Taylor presentation.
Claire Knowles, Careers in Marketing & Tech, November 10, 2021
Click here to download the .ppt slides accompanying the Knowles presentation.
---
Lighting Up Your LinkedIn Profile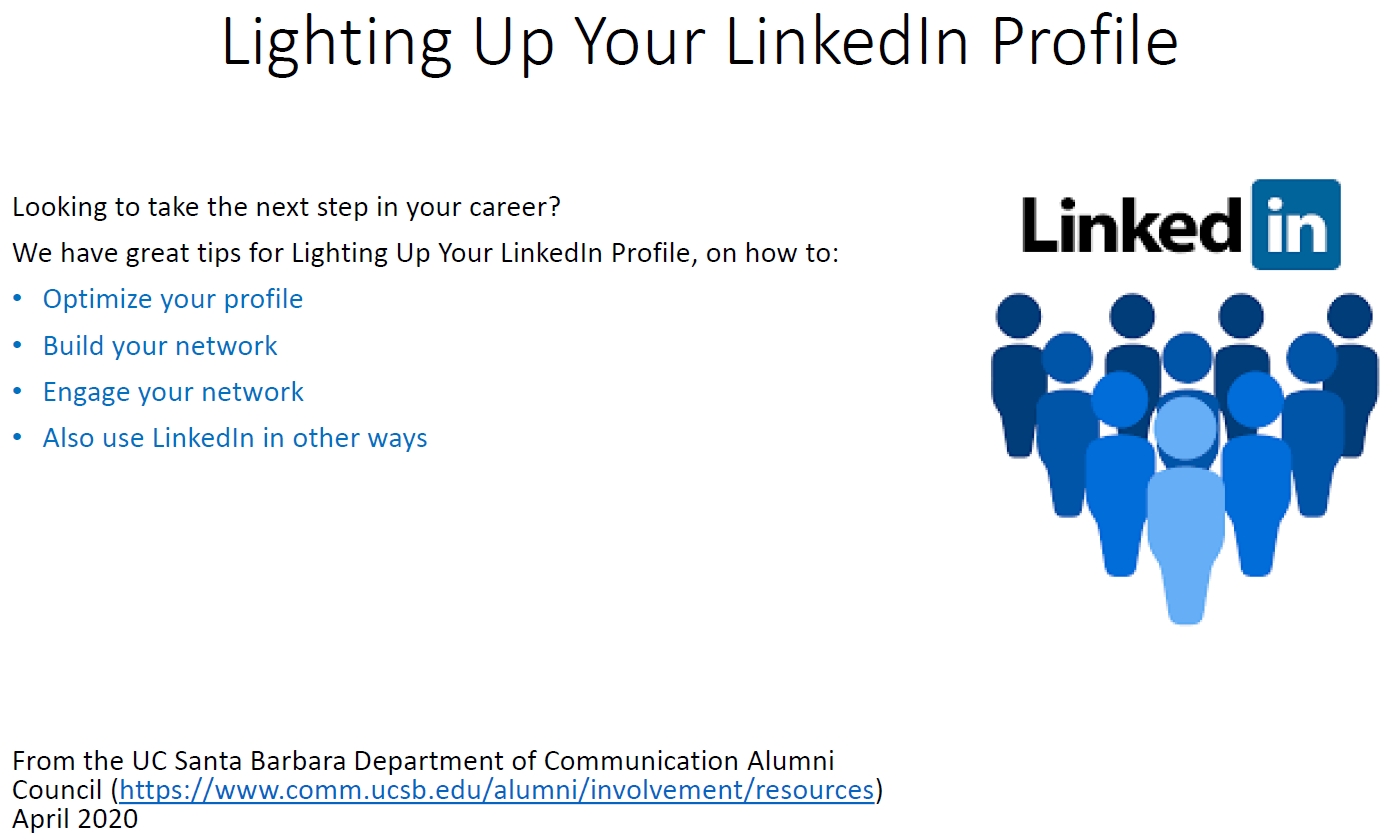 Click here to download .pdf of 8 .ppt slides
---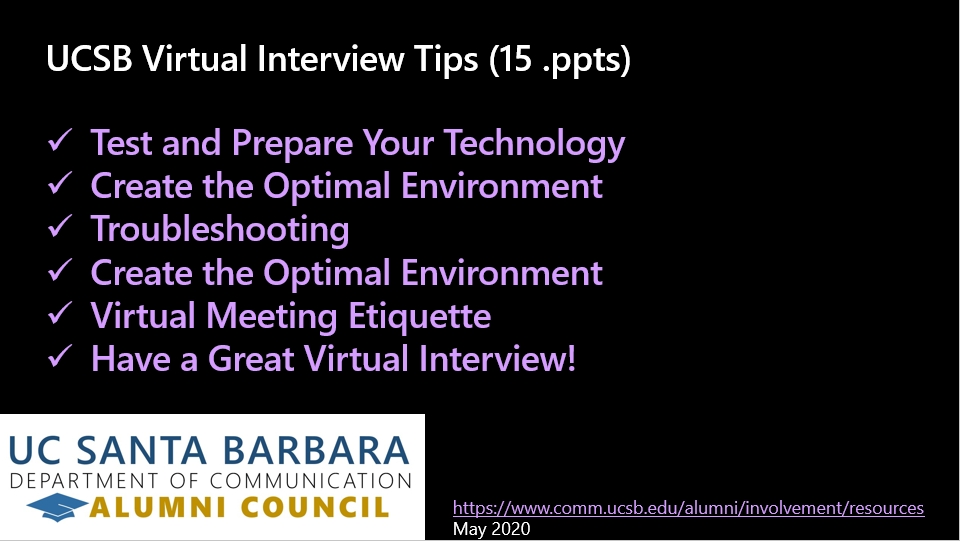 Click here to download .pdf of 15 .ppt slides
---