UCSB Comm Alumni Virtual Career Series
Lighting Up Your LinkedIn Profile
---
UCSB Comm Alumni Virtual Career Series
We are excited to announce the UCSB Communication Alumni Council Virtual Career Series via Zoom, featuring UCSB Communication Alumni. Sessions continue the 2nd Wednesday of each month.
2020
October 14, 6pm PT: Careers in Media/Journalism with Justine Miller
November 11, 6pm PT: Careers in Law with Karen Thorland, SVP and Deputy General Counsel MPAA, & Jake Edson, Associate at Willkie Farr & Gallagher LLP
December 9, 6pm PT: Careers in Marketing with Justin Hannah, Team Lead, Marketing Technology & Ad Operations
2021
January 13, 6pm PT: Careers in HR/Recruiting with Jamie Morgan, Head of Technical Recruiting, Cruise
February 10, 6pm PT: Careers in Tech with John Bollen, Chief Information Officer, The Cosmopolitan of Las Vegas and Alex Platt, Business Relationship Manager, Procore Technologies
March 10, 6pm PT: Careers in Advertising with Alexei Pizarev, Director, Digital Strategies & Success, Publicis Media
Our 3rd session is Wednesday, December 9th from 6:00-6:45pm PT. It features a discussion on Careers in Marketing, lead by Justin Hannah, Team Lead, Marketing Tech & Ad Operations at Hulu. Justin is a 2011 Comm graduate. He has been a member of the UCSB Comm Alumni Council since 2018 and has led many initiatives including our Digital Mentoring program. Justin is passionate about helping students achieve success in their chosen career path and we are delighted to feature Justin for our Virtual Career Series. In his role at Hulu, Justin is responsible for marketing technology at Hulu which serves as the backbone of marketing initiatives at the company. In his leadership role at Hulu, Justin is responsible for ensuring strong connections between the company and its 35 million U.S. subscriber base. Justin recently took over the Ad Operations team which oversees paid media. You can connect with Justin on LinkedIn here: https://www.linkedin.com/in/juhannah
For this session, RSVP here: Speaker Series Upon your free RSVP, the zoom link will be provided and also emailed to you directly prior to the event.  RSVP Today!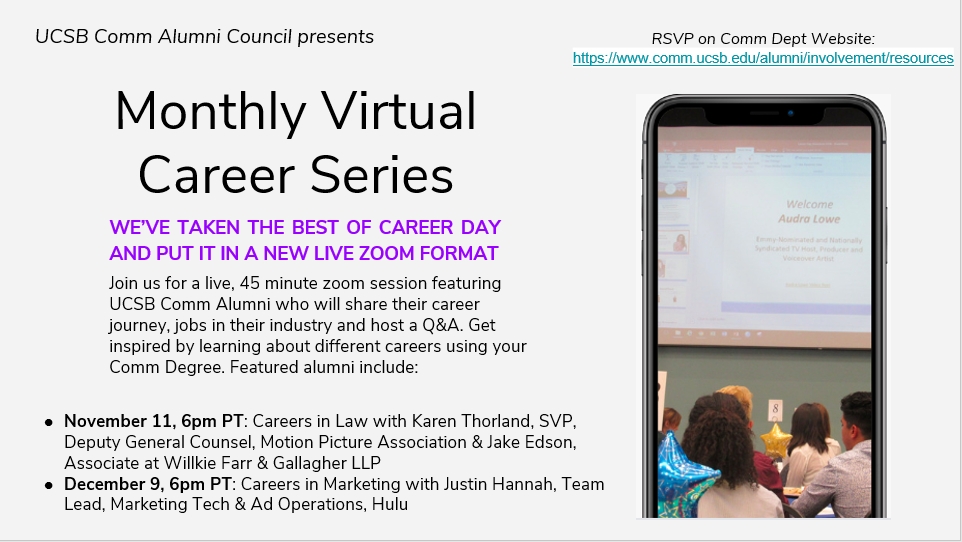 Since we have been unable to host our in-person alumni networking events, we wanted to create a way for students to connect with alumni and learn about the many job opportunities available for comm majors. Our alumni work in a variety of industries -- from media and PR to legal, real estate, entertainment, hospitality, sports, and more. We have programmed these sessions to be informal and interactive. The speaker will spend about 10-15 minutes sharing their career journey and discuss job opportunities in their industry. We will then open it up to a Q&A where you can ask your questions about career, networking, job opportunities, etc.
Also, we welcome feedback on future sessions you'd like to see as part of this series so bring your questions and ideas to the session!
Thanks and see you at the upcoming Virtual Career Sessions!
UCSB Comm Alumni Council
Past Virtual Career Series
Justine Miller, Journalism and Reporting, Oct 14, 2020
Karen Thorland and Jake Edson, Careers in Law, Nov 11, 2020
---
Lighting Up Your LinkedIn Profile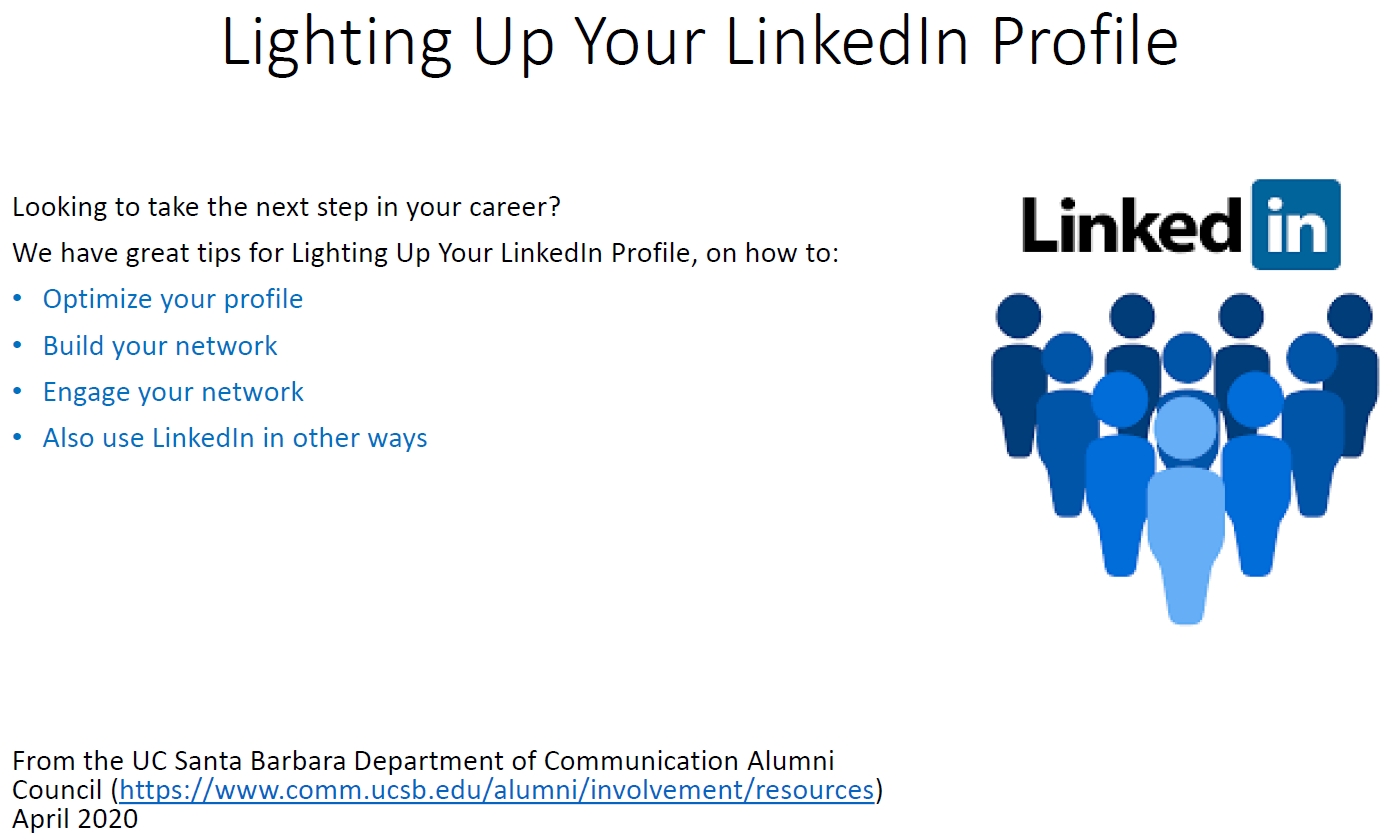 Click here to download .pdf of 8 .ppt slides
---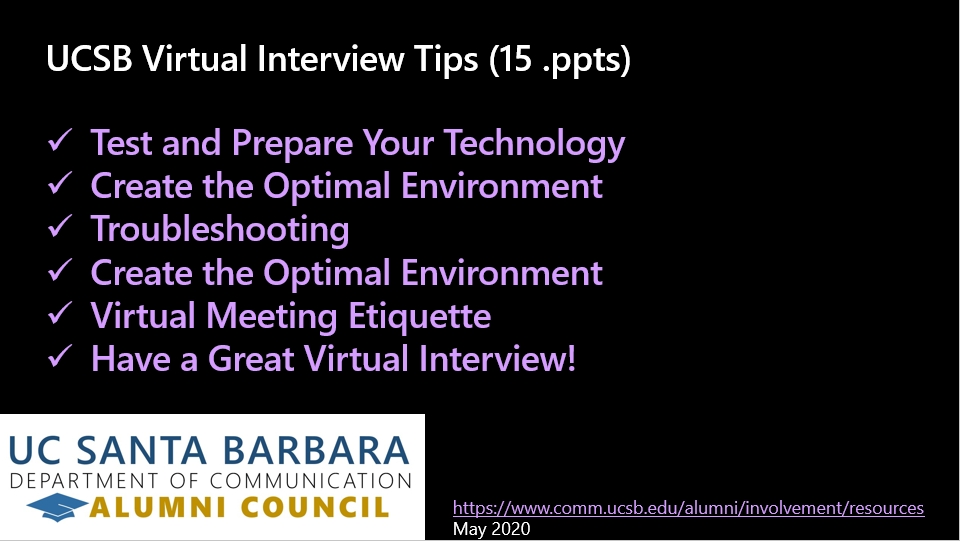 Click here to download .pdf of 15 .ppt slides
---